Vagnerhaus Inn
The Bavarian Village is at the heart of Leavenworth Washington. Washington State's top destination for fun, food and activities. But peace and quiet is located just five blocks west of the Village at the Vagnerhaus Condominium's off Icicle Road.
Eight exquisite townhomes with plenty of parking and easy walking distance to the village. All homes are 2 bedrooms, 1/5 baths with full kitchens, warm living rooms and covered parking. Everything you need to enjoy the homes is included from fluffy bedroom and bath linens to pots, pans and dining ware.
Plus The Vagnerhaus has a central patio area with bubbling hot tub open year round. Its wonderful in summer but nothing beats sitting in 104 degree water in the snow that Leavenworth is famous for.
From here you can get easily to the village, or drive south on the Icicle road, or around the bucolic valley. Just a mile west is the stunning tumwater canyon. There is nothing like it most anywhere else a reminder of how mountain valleys looked 100 years ago. North of Leavenworth some dozen miles is the strangely named "Plain Village" of Washington State. Then turn West to visit tranquil Fish lake or further West to crystal clear Lake Wenatchee.
Vagnerhaus Condos are surprisingly affordable yet complete with everything you need visit, stay and enjoy the Bavarian Village and the Leavenworth area.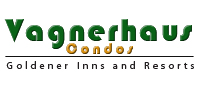 Name: Vagnerhaus Inn
Status: Active
Rating:
Type: Condominiums
475 Alpine Place, Leavenworth, WA, USA
Destination: Leavenworth
Location: Bavarian Village
Lat/Lng: 47.58698, -120.673587
Altitude: 1100
Condos: 8
Rooms: 16
Timeshare: No
Phone: 866-925-7084
Fax: 888-628-0839
Website: Vagnerhaus.com
Email: