Grizzly Hideaway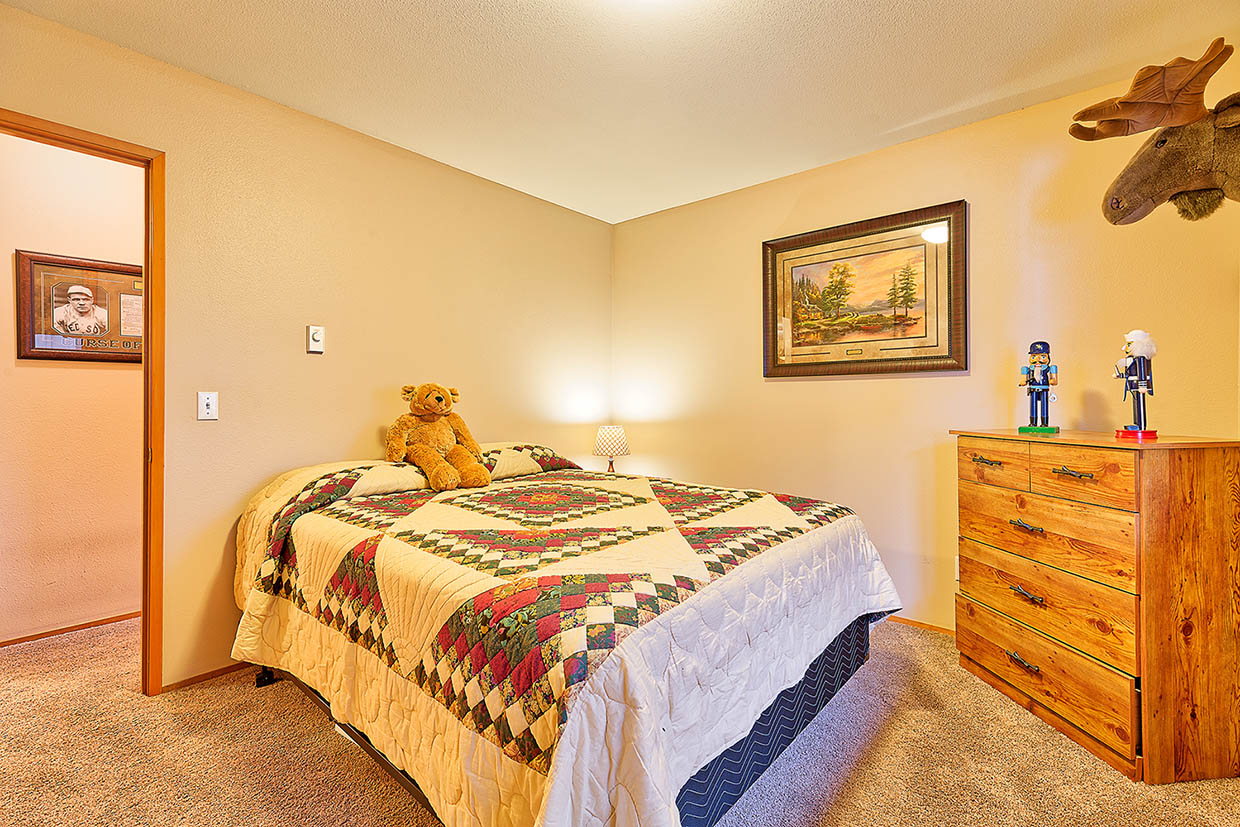 It has been a long while since grizzly bears roamed the North Cascade mountain range near the Bavarian theme town of Leavenworth. But, they are making a comeback, so we decided to name our big beautiful condo after those majestic creatures - Grizzly Hideaway.
About Grizzly Hideaway
There are very few three-bedroom homes of this size within the Leavenworth village area, but we have one. Located in Alpine Village, we are about a mile from the middle of town, but visitors enjoy the stroll as they admire the Bavarian architecture.
The Grizzly Hideaway location is quiet and pristine, with towering mature evergreen trees and easy parking. There are three bedrooms and two baths - one is full-sized, one is three quarters.
What Guests Have to Say
"We had a great weekend stay! The property manager was great to work with and extremely responsive."
- Jared
More About Grizzly Hideaway
The spacious living area has a television with cable, along with an instant-on electric fireplace. You might end up just sinking into the living room furniture for your entire stay.
The three bedrooms have comfy beds and can sleep six adults very comfortably. Better yet, bring your children along! They'll be sure to love the grizzly bear-inspired home.
We offer the usual linens and bedding, but unlike a hotel, we also provide a fully stocked kitchen! All you have to bring is your favorite eats and spices.
Our kitchen is fully updated with the newest appliances. It's equipped with pots, pans and dishes, enough for the whole family to enjoy a meal inside at the dining room table or outside on the deck if it's warm enough!
The Alpine Condo complex is relatively new, but the owners of Grizzly Hideaway updated this rental anyway. It is completely ready for your entire family to enjoy a cozy stay in.
About Leavenworth Bavarian Village
When booking any of our properties in the Bavarian Village, you'll have the chance to spend your vacation feeling as if you're in the mountain villages of Old Europe.
As it's right in the middle of Leavenworth, you won't miss out on any of the fun local activities!
The Alpine Condo complex is relatively new, but the owners of Grizzly Hideaway updated it anyway. It is completely ready for your entire family to enjoy a cozy stay.
From the touristy shops to the hand-crafted meals served at the restaurants, you're bound to enjoy the beauty and spirit that the Bavarian Village has to offer.
During the spring and summer, you'll be able to enjoy the scenic views, as well as the village events that are great in the warm weather. The Bavarian Maifest happens in May to celebrate spring when wildflowers are blooming and the apple & pear blossoms come alive.
Autumn in the Bavarian Village means Oktoberfest for three weeks straight. The village fills with people coming together to celebrate all things BEER! Aside from the beer, there's nonstop live music, German foods and local arts & crafts.
Winter in the Bavarian Village of Leavenworth is quite a sight to see. You won't want to miss out on this spirited and unique village as it celebrates Christkindlmarkt. Throughout the village, there are Christmas Lighting Ceremonies as well as singing, dancing and tons of entertainment.
The Leavenworth Getaways Promise
Leavenworth Getaways is the only full-stack vacation rental management company in the area. We vow to make booking with us simple and exciting. We know that booking a rental property home for your vacation can be unfamiliar territory for some, while others know their way around it. Because we know this, we ensure that each of our properties is up to high-quality standards.
We do our absolute best to provide support to our guests when booking.
We are available to assist you every day of the year if you have any questions or concerns before, during or after you visit our home. We have onsite property management available 24/7 for anything concerning that may arise.
Electric Fireplace
Coffee Shop
Full Service Restaurants
High Speed Wireless Internet
Mountain Biking Trails
Downhill Skiing
Live Music
Festivals
Name: Grizzly Hideaway
Status: Active
Rating:
Type: Condo
Country: United States
State: Washington State
Destination: Leavenworth
Location: Bavarian Village
Condominiums: Alpine Village
Building: Alpine Village Condos
Setting: Mountain Resort
View: Partial Mountain View
Internet: Yes
Floors: 1
Entrance Floor: 2
Bedrooms: 3
Beds: KQQ
Bunks: No
Baths: 1¾
Normal Occupancy: 4
Sleeps: 6
Max Occupancy: 7
Parking: 1
Pets: None
Checkin: 05:00 pm or later
Checkout: 11:00 am or earlier
Website: GrizzlyHideaway.com
Manager: Leavenworth Getaways
License:
BED CODES: K=King, Q=Queen, F=Full, T=Twin, C=Futon Couch, M=Mattress, A=Air Mattress, L=Sleeper, S=Sofa, U=Trundle Bed, D=Day Bed